At this time, Gilroy United Methodist Church has been Worshipped
Through YouTube Live-Streaming!
If you want to join our Zoom Sunday Fellowship,
please email to the church office; gumc.cn@gmail.com.
Then you can receive the links for Zoom Fellowship.
Gilroy UMC will have Online Communion every 1st Sunday of the month. We remember that we are always welcome to God's table as we are. If you can, I invite you to participate by preparing and having ready the following items before worship begins: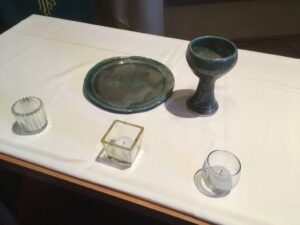 An element to represent the Body of Christ (any type of bread, cracker, tortilla, roll, bagel) – place enough portions on a plate for your household.

An element to represent the Blood of Christ (any type of juice, fruit beverage, wine, or even water) – place in a small cup or bowl.

If possible, please have these ready near or in front of your screens and regard them as holy and sacred.

You do not need to go shopping for these elements. Please prepare them from what you already have. Remember, Jesus turned water into wine. He can turn our humble gifts into his holy communion.