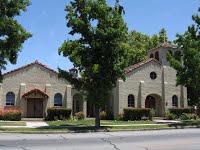 Gilroy United Methodist Church is a gathering of Christians affiliated with the United Methodist located in Gilroy, CA. We hope that you will stop by and worship with us if you are in the area. This site is designed to give you information about our church, our members and our staff as well as provide you with information on how to contact us.
We want to meet you where you are and hopefully help you grow in a meaningful relationship with God, through Jesus. We are people who struggle and hurt as we face the daily pressures of life. We are also people who are experiencing the life and joy of Jesus Christ in our daily lives. We would like nothing more than to have you join us as we seek, learn, and grow together in our spiritual walks with God.
Whether you're seeking God, curious about our fellowship, or attend our worship regularly, there's something for you here. Our church exists to minister to the real needs of people with the authentic love of Jesus Christ! We invite you to experience the genuine worship, encouraging messages, friendly people and enjoyable atmosphere that are a part of our community. We hope you will come to worship study and celebrate with us often. And, if you do not have a church home, we would be honored to have you consider becoming a part of our fellowship.
If you're already a member of our church, we hope you'll take advantage of some of the resources and tools available to you. In addition, information about ministries, worship times and community events can also be found here. Our hope is that our website will be one of many ways you stay connected to our church community.
SUPPORT UMCOR
When disaster strikes around the globe, so many watching the drama unfold on our living room tv's feel entirely helpless. How could any one person make a difference in the wake of such widespread devastation? As responders around the globe scramble to help survivors, the United Methodist Committee on Relief, UMCOR, is prepared to act.
The response of UMCOR isn't something "they" do, it's something "we" do. Because you give, the United Methodist Church's compassionate response to human suffering continues today throughout more than 80 countries around the world:
When tornadoes ripped through Oklahoma, we responded
When children in Zimbabwe lost parents to AIDS, we responded
When a massive tsunami devastated lives in Japan, we responded
And when the next mass crisis occurs, we will be prepared to respond
Ensure the United Methodist Church Can Keep Helping: By giving to UMCOR, you help ensure that 100% of donations throughout the year go directly to helping those in need.
Thank You for Visiting Us Online
We're so glad that you've taken time to visit our website and hope you'll take the next step and become personally acquainted with our church family. We invite you to visit us at 7600 Church Street, Gilroy, CA 95020 and consider attending a worship service. If you have any questions or need help in any way, please feel free to contact us through our contact form. You can also call us at: 408-842-4021. We look forward to seeing you soon.